You Need an Asphalt Distributor Trailer for Your Paving Company
To offer high-quality asphalt paving services to your clients, you require the right equipment and machinery for your company. As an asphalt contractor, numerous equipment options can bolster your company's operation and ensure you can supply clients with what they need. However, no equipment is more crucial than the asphalt distributor trailer. If looking for the best asphalt distributors, reach out today to the road maintenance professionals at Etnyre.
A Distributor's Advantages
Without an asphalt distributor, you'll find your company heavily relying on manual application of asphalt. And if you wish to provide an acceptable degree of service for commercial clients, manual asphalt application won't do the trick. Here's why:
Speed

Spreading asphalt without a distributor is a time-consuming process. For small lots or driveways, it makes more sense to apply asphalt manually. However, longer asphalt roadways and large lots cannot quickly be completed without a distributor. Etnyre's distributor trailers carry large amounts of liquid asphalt to the job site, allowing for quick and even application via a distributor's adjustable spray bars.

Effectiveness

Even if professionals handle manual asphalt application, you can't get the same consistent application as you can with an asphalt distributor trailer. Multiple people applying asphalt at differing consistencies can lead to an uneven roadway surface if not corrected. Conversely, an asphalt distributor can spray asphalt at the same speed and consistency, guaranteeing an even layer over any surface.

Labor

Having enough crew for an asphalt paving job is always a concern for contractors. However, manually laying asphalt already requires a decently sized crew to manage. Especially for large projects, successful project completion depends on the labor present. Thankfully, asphalt distributors don't have such labor concerns. You only need one to two operators to efficiently utilize an asphalt distributor.
Etnyre's Asphalt Distributor
The Black-Topper Asphalt Distributor, Etnyre's line of distributors, is one of the best in the industry! Contractors rely on our distributors and additional asphalt equipment for their incredible reliability, longevity, convenience and function. As such, our Black-Topper includes features like:
Electronic asphalt pump speed controls for precise control
One person operation with controls from the truck cab or near rear of distributor
Custom tank sizes with capacity options between 1,000 and 4,500 gallons
Balanced, dual-feed asphalt flow for uniform application across full bar
Full circulating 12-foot spray bar with folding wings and electric-hydraulic shifting
Meets all federal regulations for hot products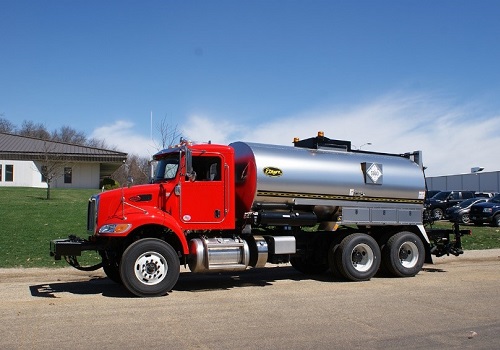 Call Today
Ensure you can meet your clients' asphalt paving needs with the best equipment in the asphalt industry! Your business's success starts with Etnyre's asphalt distributor trailer and our top-rated road maintenance equipment. To learn more about our products, contact Etnyre today at 815-732-2166. We are located at 1333 Daysville Rd, Oregon, IL 61061. Etnyre is headquartered in Illinois, serving clients throughout the United States.