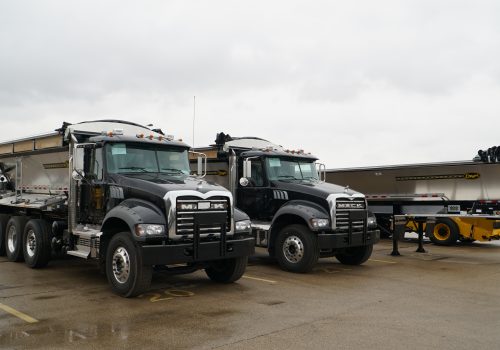 Easily Haul Material with Etnyre Live Bottom Trailers
Move over dump trucks; there's an easier material transport in town! Since their inception, live bottom trailers have become a popular option for contractors, farmers and businesses looking to haul large loads of raw materials. While dump trucks are still effective for resolving this task, live bottom trailers have unique advantages that the average truck can't beat. And when it comes to offering high-quality live bottom trailers for any contractor or business, Etnyre offers our Falcon® Live Bottom Trailers.
The Advantages of Live Bottom Trailers
For years, dump trucks have been the industry standard for hauling and unloading large amounts of raw materials. However, recent years have shown growing popularity for live bottom trailers, and it's not hard to imagine why! Live bottom trailers offer numerous unique benefits that other trucks cannot. For example, some advantages of live bottom trailers include:
No Trailer Rollover – Due to the placement of a truck's dump box, its center of gravity is much higher than that of a standard truck. Unfortunately, this higher center of gravity increases the risk of potential rollover accidents when unloading. Conversely, live bottom trailers keep their center of gravity low, eliminating the cause of most rollover accidents.
Empties Clean – When cross-contamination of materials can become problematic, dump trucks don't provide effective enough unloading. Depending on what your truck carries, its dump box must be thoroughly cleaned between each load. However, live bottom trailers run into no such issue. Live bottoms unload in a smooth, controlled manner, making cleaning much easier.
Precise Unloading – Dump trucks empty their dump boxes by lifting the back of the truck and allowing its contents to slide out. However, this method for unloading can prove unsafe and imprecise. Live bottom trailers instead unload using conveyor belts to move materials out the back. This allows for greater control of materials being unloaded.
Falcon® Live Bottom Trailers & Trucks
Etnyre's Next Generation Falcon® Live Bottom Trailers & Trucks are some of the fastest and lightest units in the industry. Our reliable conveyor system discharges material at the rear of the trailer without lifting the body to dump, avoiding the risk of overhead hazards. A system so great that we offer it not only for trailers, but for truck-mounted options as well. Whether hauling hot mix asphalt, gravel, recycled materials or sand, you'll have the optimal payload and unload speeds — all with either one trailer or one truck. Some of our live bottom's best features include:
Patented reliable conveyor system minimizes maintenance and downtime to save money
42-inch-wide (106-cm) belt eliminates slats and minimizes material bridging
Among the lightest in the industry for minimal fuel consumption and greater payloads
Variety of rear doors, including twin, concrete, high-lift, and high-lift bi-folds, to provide efficient unloading for any material and application
Steep side walls prevent bridging and easily discharge a wide range of materials, including hot mix asphalt, small and large aggregates, sand, gravel, recycling materials, and low slump concrete
One-half revolution of the belt quickly and efficiently unloads material
Option to have a truck-mounted bed onto any customer truck chassis – no trailer!
Reach Out Today
Live bottom trailers are changing the way to transport and unload raw materials! And with Etnyre's Falcon® Live Bottom Trailers, you can ensure the safest, smoothest, and most convenient loading and unloading processes. To learn more about Etnyre and our additional trailers and road maintenance products, contact us today at 815-732-2116. Also, we are located at 1333 South Daysville Rd, Oregon, IL 61061. Etnyre is headquartered in Illinois, serving clients throughout the United States.