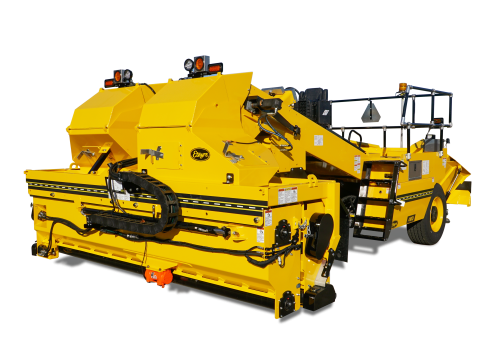 Quick and Effective Chip Sealing with Etnyre ChipSpreaders
Many of the United States' roadways are paved and sealed through what is known as the chip seal method (chip and seal). This pavement surface treatment combines one or more layers of asphalt with several layers of fine aggregate. While many contractors consider this paving method to offer unique benefits over other paving standards, chip seal requires specialized equipment and machinery. Thankfully, with Etnyre's ChipSpreaders, the chip and seal process has never been easier!
Why Choose Chip Sealing?
Chip sealing has many benefits that contractors, landowners, businesses, and municipalities look to take advantage of. Not only is chip sealing effective for protecting and repairing roadways, but it's more affordable to implement.
Longevity – Vehicles, weather and chemicals quickly take their toll on the roadways you traverse. Thankfully, pavement treatment methods such as chip and seal can significantly increase any road or lot's lifespan. Sometimes, chip sealing can extend pavement life by as much as 12 years.
Affordability – As a contractor looking to offer chip seal services, you can set lower prices when compared to other paving competitors. While the initial investment into chip seal equipment is worth considering, the material and labor used for the process are minimal and straightforward. In the long-term, your clients and business significantly save through chip and seal.
Safety – The qualities of a chip-sealed surface offer some extra protection for drivers versus other pavement options. For example, chip-sealed pavement is skid-resistant, meaning it can reduce accidents in various weather conditions. Furthermore, chip seal surfaces are anti-glare, which reduces the eyestrain for drivers on bright or sunny days.
Etnyre ChipSpreaders
When manufacturing top-rated and highly customizable equipment for paving, asphalt and road maintenance services, Etnyre is one of the best. We design Etnyre ChipSpreaders to accurately and efficiently apply a controlled amount of aggregate to the road in the chip seal process. Etnyre ChipSpreaders achieve these results using a hydrostatic drive system, and a variable width spread hopper to apply multiple aggregate sizes and application rates through a full range of travel speeds and spreading widths. Some of Etnyre ChipSpreaders' best features include:
Front-wheel or four-wheel drive
Turbocharged diesel engine with 260 H.P.
Computer control application rate and speed control
24-inch-wide hydrostatic driven conveyor belts
12 to 24-foot front spread hopper with hydrostatic driven spread roll
Fixed or variable hopper
Individual gates for effortless radius corners
Folding batwings for improved material usage
Manual sliding console/seat assembly
Call Today
Ensure you're equipped to provide incredibly efficient and accurate chip sealing services with Etnyre ChipSpreaders and our additional chip seal products and machinery. To learn more about our road maintenance/repair equipment, contact Etnyre today at 815-732-2116. Also, we are located at 1333 South Daysville Rd, Oregon, IL 61061. Etnyre is headquartered in Illinois, serving clients throughout the United States.