Safely Transport Liquid Asphalt with Etnyre Asphalt Transport and Cargo Tanks
Asphalt is a crucial component for yearly road repair and upkeep for contractors, paving companies, and public works. And if living in a state with highly trafficked roads or harsh weather patterns, the need for road maintenance is strong! Thankfully, Etnyre can supply companies with the tools and equipment they need to transport and apply asphalt to roadways safely. For example, Etnyre supplies safe and dependable asphalt transport and cargo tanks for those moving large amounts of asphalt. See what asphalt tankers are available!
How Are Asphalt Tanker Trailers Unique?
You've likely seen dozens of different types of trailers while on the highway. However, not all tankers are equipped to handle the transportation of asphalt. It takes a specialized design and components to safely and successfully move asphalt across the city. For example, asphalt tanker trailers are unique due to:
Heating Capabilities – Unlike other tank trailer options, we build asphalt transports with internal burners to help keep asphalt hot. Moreover, every tanker is incredibly well insulated and heat resistant, ensuring asphalt does not damage the interior and can stay at appropriate temperatures for use.
Large Capacity – No other tanker trailer can carry the amount of liquid asphalt an asphalt transport can. Depending on the size of tank purchased, Etnyre tankers can hold between 5,000 to 7,000 gallons of hot asphalt.
Safe to Use – Above all, Etnyre's asphalt transport tankers are safe and easy to use. Asphalt can be easily accessible via a manhole cover or pumping system, with straightforward methods for loading and unloading. Furthermore, controls for heating your tank are precise and simple to implement.
Our Asphalt Transports
Trust your asphalt, coal tar, pitch, and lubricating oil transportation needs to Etnyre and our more than 70 years of experience in over-the-road cargo tank engineering. From high-quality construction to dependable operation, you'll have the efficiency you need to deliver product quickly. Our asphalt and cargo tanks include numerous unique features, such as:
Aluminum and steel tanks built for your specific transportation needs to ensure safe and efficient material transportation
Exclusive jacketing system reduces circumferential seams for proper expansion and contraction and superior heat retention
Multi-axle, extended axle and custom trains for a variety of applications
Optional pumps for faster discharge
Aluminum construction for light weight and superior durability.
20-inch quick-release manhole, U.S. Department of Transportation compliant.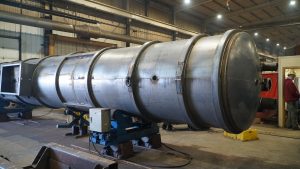 Contact Us Today
Safely and effectively transport liquid asphalt anywhere with the help of Etnyre asphalt transport and cargo tanks. To learn more about our tanker customization options or additional road maintenance machinery, contact Etnyre today at 815-732-2116. Also, we are located at 1333 South Daysville Rd, Oregon, IL 61061. Etnyre is headquartered in Illinois, serving clients throughout the United States.