Take Your Company to the Next Level with the Best Chip Seal Equipment in Illinois
Asphalt contractors are abundant across the Prairie State! From private residences to commercial properties, there's always a great need for asphalt work in the Midwest. However, many asphalt contractors don't possess the proper equipment for managing jobs any larger than a small lot or driveway. That's where E.D. Etnyre & Co. is changing the game for contractors. We produce the best chip seal equipment in Illinois, enabling contractors to offer pavement resurfacing services on a larger scale. Call Etnyre today to learn more!
What You Need for High-Quality Chip Sealing?
If your company doesn't already offer chip seal paving, it's a service worth investing in. Not only is chip & seal highly effective for repaving asphalt, but it's affordable for contractors and customers alike! However, without the essential equipment that Etnyre provides, chip seal services become more challenging. As such, Etnyre supplies essential machinery such as:
Asphalt Distributors

As part of the first step of the chip and seal process, hot liquid asphalt must be applied over the surface of the pavement being treated. For small jobs, this can be completed with a few laborers and specialized tools for spreading liquid asphalt. However, an asphalt distributor is the only reasonable means for quickly and evenly spraying liquid asphalt for larger streets or roadways.

Chip Spreaders

Once the liquid asphalt is in place, contractors evenly spread aggregate asphalt chips over the pavement and press them into the surface. The melding of the liquid and aggregate asphalt creates a water-tight overlay that protects asphalt and restores cracked or unbinding pavement. With chip spreaders from Etnyre, contractors can guarantee quick and precise aggregate chip spreading, ensuring the best possible project completion.

Additional Equipment

Besides the main industrial machinery used for chip seal, additional equipment is required to manage transportation. With durable tankers and trailers, contractors can haul raw materials and equipment any distance! Our lowboys are built to carry your chip spreaders, crack sealers, and other asphalt machines easily. As for live bottoms and asphalt transports, these trailers and tankers are perfect for moving large loads of liquid asphalt, asphalt aggregate chips, gravel, dirt and more.
How Does Etnyre Stand Out?
Few companies have been in the industrial equipment manufacturing business as long as E.D. Etnyre & Co. In fact, our company has over a century of experience producing the best chip seal equipment for Illinois and the country! Our years in business have led to some incredible strides in advancing essential technology used for road maintenance and asphalt paving. Etnyre's asphalt distributors, chip spreaders and crack sealers have continually set the standard for performance and reliability in the asphalt contracting industry. Our machinery incorporates parts and technology that improve longevity, give operators greater control, and streamline steps of the paving process.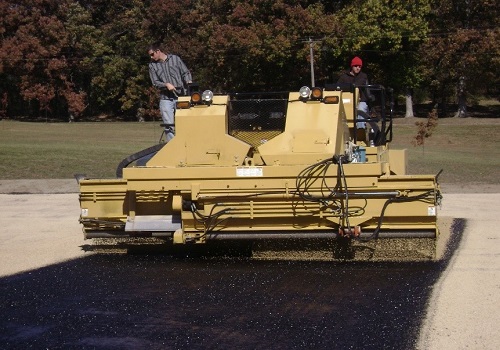 Talk with Our Team
Is your company ready to advance to the next level? All it takes is an investment in the best chip seal equipment in Illinois! Make a change for the better and select from exceptional asphalt machinery designed and manufactured by E.D. Etnyre & Co. To learn more about our company and products or request a quote, call 815-732-2166. Etnyre is located at 1333 Daysville Rd, Oregon, IL 61061, serving clients throughout Illinois, Arizona, Tennessee, Texas and the U.S.