Find Affordable and Durable Crack Sealers for Sale
At E.D. Etnyre & Co., we continually strive to produce our industry's best, most affordable and most efficient road maintenance equipment. As such, we offer a range of products designed to simplify and shorten many of the processes behind asphalt road repair and maintenance. For example, our crack sealers are some of the best available, with features that enable operators to repair cracks in roadways with ease. If interested in our crack sealers for sale, call Etnyre today!
Do You Need Crack Sealers for Your Business?
The short answer: yes! Crack sealers provide a near-essential service requested of most road maintenance crews. Thanks to crack sealers and their crack repair abilities, contractors and property owners can expect benefits such as:
Safer Traversal

An asphalt roadway in disrepair can further deteriorate, creating a rough and dangerous surface for vehicles and pedestrians to traverse. However, before unraveling and potholes become prevalent, you can repair the early asphalt cracking that leads to such issues. Proper crack sealing prevents pavement from breaking apart and causing damage to vehicles or creating unsafe driving conditions.

Longer Asphalt Lifespan

Preventing deterioration of your asphalt increases your roadways' safety and extends its life! Although asphalt roads already have a significant lifespan, constant traffic, chemical spillage, moisture and freezing can lead to asphalt shifting and beginning to crack. Thankfully, with a crack sealing machine, you can patch cracks before they get worse and compromise the longevity of your roadways.

Greater Cost Savings

Out of the abundance of road maintenance services your company can offer, crack sealing is one of the easiest and most profitable. The materials and labor required for crack repair are minimal, meaning it doesn't take much more than having the right equipment to provide proper service. Not only does this save contractors costs for service, but those savings can also be passed down to clients.
Our Crack Sealing Machine
Etnyre's crack sealers for sale are one of the most efficient crack sealing machines available on the market. Our machines utilize quick heating and circulation systems to minimize downtime between sealing jobs and maximize the productivity potential of your contractors. In addition to these fast-acting systems, the Etnyre crack sealer boasts features such as:
Closed loop, flow-controlled hot oil heating system
Versatile controls allowing automatic or manual operation
Two sealant loading doors for easy access
Sealant tank capacity of 250 or 400 gallons
Environmentally friendly flush-free system
Enclosed high-pressure diesel-oil burner with automatic ignition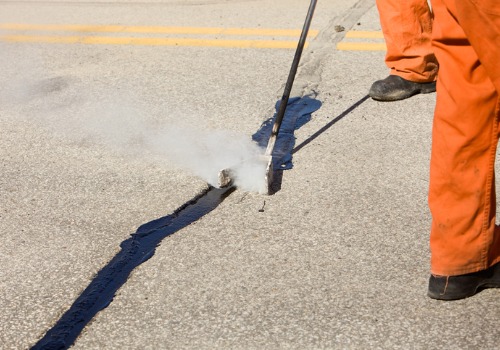 Call Today
Ensure your company can offer the most requested asphalt repair services with Etnyre's crack sealers for sale! To learn more about our crack sealers or other asphalt equipment, call Etnyre today at 815-732-2116. We are located at 1333 Daysville Rd, Oregon, IL 61061. Etnyre is headquartered in Illinois, serving clients throughout the United States.