Where Can You Find the Best Chip Seal Equipment for Sale?
Countless paving contractors throughout the United States are looking for new, advanced, convenient machinery for managing their profession's toughest jobs. In truth, it can be a challenge to affordably equip your facility with the right machinery for handling essential asphalt projects. That's why E.D. Etnyre & Co. is changing the game with our array of the best chip seal equipment for sale. No matter what machinery your company needs to succeed, Etnyre can happily oblige.
What You Need for Chip Sealing
Chip & seal service is a vital paving method most contractors offer, and many clients request it. For one, chip seal paving is incredibly effective for repaving damaged or deteriorating roadway surfaces. Additionally, the process uses recycled asphalt and reapplies it to roadways, helping keep the price for materials lower than other paving projects. And to ensure chip seal paving goes off without a hitch, asphalt contractors use Etnyre's:
Asphalt Distributors

Without an asphalt distributor, most paving projects are significantly more challenging. An asphalt distributor plays the essential role of evenly applying hot liquid asphalt to pavement. While this job can be completed manually, it would require more time and likely be more inconsistent than what is achieved with a distributor's sprayer.

Chip Spreaders

Once liquid asphalt is spread over your roadway, the next part of the chip seal process entails spreading and pressing asphalt aggregate chips into the pavement surface. However, without Etnyre's chip spreaders, this part of the chip seal process wouldn't be possible! Our chip spreaders run behind the distributors, evenly distributing aggregate chips while pressing them in, creating an even asphalt overlay that protects and restores the pavement underneath.

Trailers & Transports

Etnyre also provides our clients with the means for safe, quick and efficient transportation. Our trailers and transports are perfect for moving the materials you use and the equipment you need. Lowboy trailers easily move industrial equipment from one site to the next, while our asphalt transports keep your liquid asphalt safe and preserved. Best of all, live bottom trailers ensure quick and easy dumping of aggregate chips and other raw materials.
The Latest and Greatest
While there are plenty of industrial equipment manufacturers to choose from, few are as committed to their machines' durability, convenience, and quality as Etnyre is. For years, we've pushed innovation in road maintenance, designing and manufacturing machinery that streamlines portions of the asphalt paving process. In addition to the best chip seal equipment for sale, we produce high-quality crack sealers and custom chip seal equipment. Best of all, you can always rely on Etnyre for more affordable, used equipment or parts and components to repair your existing Etnyre machinery.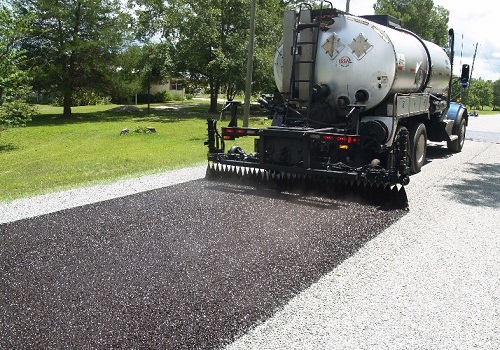 Call Today
Push the success of your paving company forward with the benefit of using the best chip seal equipment for sale in the United States. Reach out to the road maintenance experts at E.D. Etnyre & Co. today! To learn more about our machinery or request a quote, contact us at 815-732-2166. We are located at 1333 Daysville Rd, Oregon, IL 61061, serving clients throughout Illinois, Arizona, Tennessee, Texas and the U.S.