Where Can You Select the Best Chip Seal Equipment in Tennessee?
There's no end to the need for road maintenance in Tennessee! Year-round asphalt contractors provide continual service, stopping only when winter weather finally sets in. However, you need industrial machinery that can keep up to ensure your company can complete the most jobs during your busy season. Thankfully, the best chip seal equipment in Tennessee isn't hard to find. E.D. Etnyre & Co. supplies an extensive array of long-lasting, durable, and exceptionally accurate asphalt machinery; call today to learn more!
Distributors, Chip Spreaders & More
Every piece of equipment produced by Etnyre is key to the most crucial paving processes. Chip & seal paving, for example, is one of the most sought-after repaving methods for private property owners and city municipalities. However, chip seal service is challenging to offer without the right equipment. That's why asphalt contractors count on Etnyre to access high-quality asphalt machines like distributors or chip spreaders.
Asphalt Distributors

An asphalt distributor helps contractors achieve the seemingly simple task of applying liquid asphalt to a roadway. While not an immediately challenging step in the chip seal process, spreading liquid asphalt can take considerable time and labor, depending on the project size. Thankfully, Etnyre's asphalt distributors allow quick, even and accurate spraying, limiting the need for more time and labor.

Chip Spreaders

Next, as part of chip sealing, asphalt aggregate chips are applied and melded to the liquid asphalt. Recycled asphalt chips merge with hot asphalt to create a durable, water-tight overlay that protects and restores the underlying pavement. Thanks to Etnyre's ChipSpreaders, we create the most durable and reliable chip seal overlays possible. Our chip spreaders allow precise spread rate and chip size control, promising high-quality chip seal finishes.

Tanks and Trailers

Transportation of equipment and materials is essential. As such, Etnyre supplies asphalt contractors with lowboy trailers, asphalt transport tankers, and live bottom trailers. Our live bottoms and asphalt tankers help transport raw materials (asphalt aggregate, rocks, gravel) or liquid asphalt. As for our lowboy trailers, they enable contractors to transport machinery to any job site easily.
Years of Quality Equipment
Believe it or not, Etnyre has supplied the best chip seal equipment to Tennessee and throughout the U.S. for over a century. Our equipment has continually set the standard for performance and reliability, paving the way for contractor success since 1898. Our goal has always been to produce high-performance machinery that streamlines the paving process and enables contractors to save money on labor and material costs. In addition to distributors, chip spreaders and trailers, our crack sealers are rated number one for their speed and ability.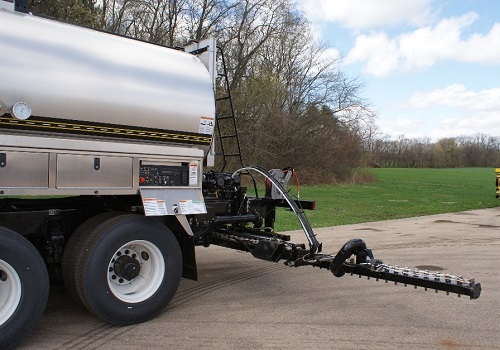 Call Today
There's no denying the exceptional quality and capabilities of Etnyre's machinery. Invest in the best chip seal equipment in Tennessee from E.D. Etnyre & Co. to set your asphalt company on track for success this road maintenance season. To learn more about our equipment company, or request a quote, contact us today at 815-732-2166. We are located at 1333 Daysville Rd, Oregon, IL 61061, serving clients throughout Illinois, Arizona, Tennessee, Texas and the U.S.